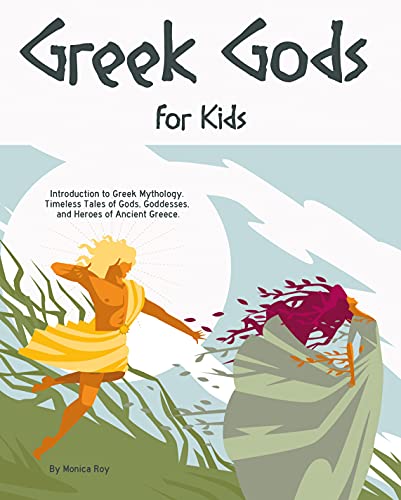 Do you wish to introduce your kids to Greek mythology in an interesting manner that makes them want to learn more about the ancient Greeks?
And are you looking for a child-friendly book that will make your kids even thirstier for more mythologies of the ancient world?
If you've answered YES,
Let This Book Take Your Child On A Journey Into The Ancient Greek Mythology In A Manner That Has Never Been Told Before!
Stories about gods, goddesses, titans, and other important beings in Greek mythology, when told right, have the power to inspire anyone to want to learn more about the ancient Greeks. And for a growing, curious mind, this will literally make any child want to read anything they can get their hands on regarding ancient history and more.
But how exactly is this book meant for kids?
Well, it uses child-friendly, descriptive language that will make them create vivid images of whatever is being described!
Will it address most of the questions that beginners and intermediates (kids) into Greek mythology have?
Yes!
Does the book help the readers (kids) to not only learn but start making good conclusions?
Yes!
Is it too graphic for kids?
No. The book uses a toned-down yet descriptive style that will ensure readers have a good reading experience without being exposed to violence!
Indeed, this book will make your child love the ancient Greeks even more! Prepare to answer all manner of questions about different mythical creatures and play pretend where you act like the titans, Cyclopes, and other beings!
This is the second book in the series about ancient mythologies. The other book, "Egyptian Mythology for Kids and Teens: Captivating Myths of Gods, Goddesses, Pyramids, Sphinxes, and Pharaohs of Ancient Egypt" focuses on the Egyptian culture.
In this book, your child will discover:
A background story about Greek mythology and cosmogony
The Greek gods of Olympus and their relative myths, from Zeus, Hera, Medusa, Aphrodite, Heracles, to Apollo and Demeter and many more
A comparison between Greek mythology and the Roman pantheon
A comprehensive and well-understood story of each god, their powers, roles, and characters
And so much more!
Whether your child has just started learning history or you simply wish to introduce them to Greek mythology because you love it, this book will do a great job at expounding their knowledge about the ancient Greeks!
Scroll up and click Buy Now With 1-Click or Buy Now to get your copy!
Free on Kindle