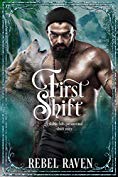 Celine Crane can't remember how she ended up in Callum Cree's arms but she's not exactly complaining.
Attacked and left for dead in the woods, somehow, she survived—and in fact, she feels better than ever. Her savior explains her life is about to change and she somehow senses he's the only one to help her with that change. Something makes her trust the mysterious and mesmerizing mechanic and she finds she doesn't want to be anywhere else but by his side.
Finding a beautiful woman wounded and confused in the woods is not how Callum expects to find his mate. But, after he finds Celine bitten by a rogue shifter—and in the throes of her first shift—he knows he has found exactly that.
Nothing is as it seems in Diablo Falls and now that she's part of the shadowy creatures her mother warned her about, she's not so sure who the bad guy is anymore.
Welcome to Diablo Falls, where the world of the supernatural is out in the open, and where fangs, fur, and magic are the norm. Join the authors of Bite Club and meet those who are experiencing paranormal firsts in our growly, filthy collection of thirteen steamy "First Time" short stories.
Because we all know…you never forget your first. $0.99 on Kindle.