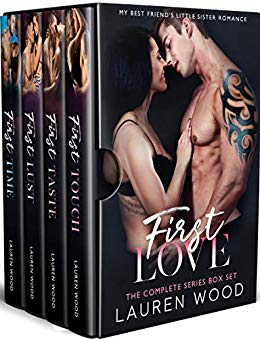 First Love Series is here, all 4 books in one complete set!
First Touch
"Five years ago, Carl broke my heart
He ignored my desire for him and pushed me aside.
Carl was always, never ending, in the back of my mind.
I won't let him do the same mistake twice."
First Taste
"Stan was my white knight in shining armor and I wanted to pay him back in kind.
He was just as handsome as before, but this time he was looking at me with need in his eyes.
All I needed was to feel his arms around me, his lips on mine…"
First Lust
"Why did my brother's best friend have to be so damn sexy?
Teddy was back, and lightning strikes the same place twice.
I didn't want to say no to him anymore."
First Time
"I touched her in the most intimate ways, on her parent's couch.
David wasn't supposed to fall for his best friend's little sister. But he couldn't help it." $0.99 on Kindle.