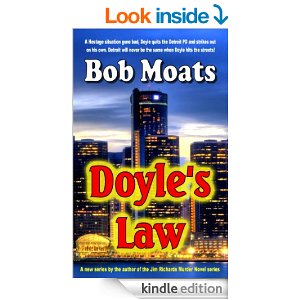 Doyle is a homicide detective. He's a good detective, but he has a problem, he's getting fed up with crime. A hostage situation comes up involving the Mayor of Detroit and a mugger, who Doyle put in the hospital.
The hostage exchange goes slightly wrong, but it was enough to make Doyle quit the PD. He goes out on his own to become a private eye and along with another ex-detective, Oscar Drew, they start their business. Their first client is a woman looking for her missing father. But is there more to the story involving bookies, murder, a missing lottery ticket and a hot looking waitress. Doyle and his partner have their hands full trying to sort everything out.
Detroit will never be the same when Doyle hits the streets. A new novel by Bob Moats, the author of the Jim Richards Murder Novels.