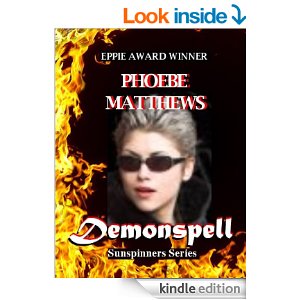 Demonspell,, or Curse of the Everlasting Relatives. is the first novel in the Sunspinners series. 

Along with a big house and income, Elaine inherits five immortal relatives who need constant attention. Try keeping a husband with that set of in-laws. Yes, she has tried. Twice. And failed. Now, just when she meets a new guy, a band of demons demands that Elaine and her family leave Seattle immediately, alive or dead. 
From the author of the award-winning fantasy Mudflat series, here is another series set in contemporary Seattle, across town. Matthews has been published by Avon, Dell, Holt, Putnam and Silhouette.