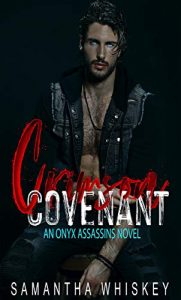 From Amazon Top 10 Bestselling Author Samantha Whiskey comes an opposites attract paranormal romance.
For two hundred years, I've held the Vampire throne.
I've upheld our ancient traditions, and led the Order of Onyx Assassins.
I've never questioned our rules…until now.
The Covenant states that if humans discover the supernatural world, their lives are forfeit,
but one run-in with human Lyric O'Brien, and I'm hooked.
Smart, fierce, and sexy-as-sin, Lyric's blood tempts me with unbridled need.
I never should have brought her into my world, but I can't stay away,
And now she's in danger.
When she's targeted by my enemies, I'll stop at nothing to protect her.
The ancient threat is cruel and the stakes have never been higher.
If I have to break every law in the Covenant to keep her alive, I will.
Sink your teeth into the Onyx Assassins, Samantha Whiskey's steamy paranormal romance series, filled with sexy alpha vampires and the women who love them. $0.99 on Kindle