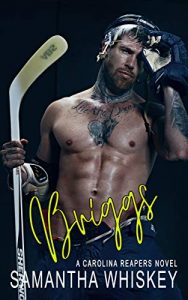 Four years ago, one mistake—one woman—cost me my NHL team.
I've worked every day since to ensure I'm irreplaceable to the Carolina Reapers.
I'm faster, stronger, and sure as hell smarter.
With a new million-dollar endorsement deal, I'm at the top of my game—
Until I realize the very woman who got me traded is now the CEO who just signed my deal—under the guise of making amends.
Brilliant, gorgeous, infuriating Bristol McClaren now owns my ass for the next six months.
I might despise her for what happened between us, but I'm legally locked in.
Worse? I haven't been able to stop thinking about that smart mouth since that night.
She screams sex and power and everything I know better than to touch.
But logic doesn't matter when our chemistry incinerates every good intention.
We're either at each other's throats or desperate to rip each other's clothes off.
This can't work.
She's high class New York, and I'm married to the ice in Charleston.
That doesn't stop me from wanting.
When it comes to this woman, I might just forget the past and give her free rein to burn my future. Because one without her in it just isn't an option. $0.99 on Kindle.