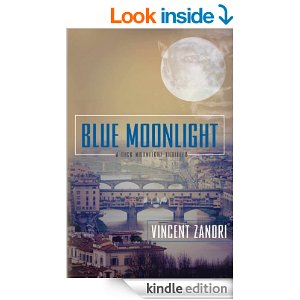 Private Investigator Dick Moonlight returns to chase down a cop gone bad in the next installment of author Vincent Zandri's clever and cunning Moonlight series.
Moonlight has hit some turbulence. Sure, his bar burned to the ground; his significant other, Lola, left him for another man; the private eye business is slow; and his evenings are now spent with his new pal, Jack Daniels. But this is real turbulence—in a plane, going down fast, and he's waking up handcuffed to an FBI agent. How he got there is a little fuzzy, thanks to the sliver of a .22 caliber hollow-point bullet lodged in his brain.
Once on the ground, and after a few bumps and bruises, things become clearer and more dangerous. Thinking he's been brought to FBI headquarters for drunk-dialing the IRS, Moonlight learns that he's got some unfinished business: his last case, which had him up against Russian mobsters in search of a zip drive loaded with government secrets, isn't
exactly closed. The cop who was supposed to deliver the goods to the FBI went rogue, bringing along a crooked agent and Moonlight's ex, and now he's out to sell the hardware to the highest bidder. The FBI wants Moonlight's help in tracking down the trio—all the way to Florence, Italy—and wooing Lola into handing over the zip drive. He's just going to have to outwit, outrun, and outshoot the Russian thugs who have their own big plans for the zip drive, and for Moonlight.