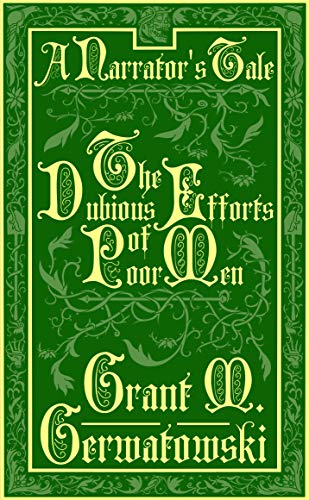 Since creation, humankind has promptly freaked out over three big truths: the existence of the omnipresent Writer, the World apparently being a massive hibernating lifeform, and the roving voice in the sky, known as the Narrator, solely existing to entertain the other gods at humanity's expense. Long after the acceptance of these big truths, the Narrator's newest adventurer has incidentally altered fate.
It all begins with Horluf, a homeless man in a big city who has a chance at turning his life around. When the unexpected happens, the Narrator's all-knowing knowledge falters, and more adventurers figuratively tie themselves into the tale at hand. There's Dun, who owes a hefty sum to a mobster; Sinclair, the loyal mute with brave intentions; John Carl, a theatrically-merry debt collector; and an impossible "metal man," who actually isn't so much more absurd than the otherworldly servant with a slight memory problem.
Their quest: to reluctantly seek out a purportedly haunted treasure with a rather peculiar past. All the while, the Narrator must make do with a story that continuously strays further and further away from what was ever intended. $0.99 on Kindle.