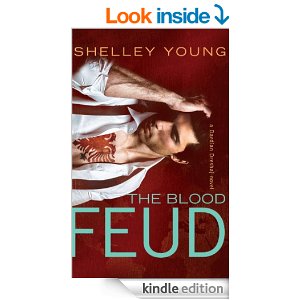 Shelley Young's The Blood Feud is the first book of the Dardian Dreshaj novels. 
Who would have thought that the death of an aging ex-mafia boss would start a war between law enforcement, the mafia and a secret criminal underworld organization known as The Association?
Homicide Detective Jesse Richards is facing the murder case of his career. With hardly any evidence, no witnesses and no identity of the murderer he's looking for, for the first time he fears he's been given a case that will end up in the cold files. Desperate to uncover the reason behind Vito Russo's seemingly senseless death, he'll stop at nothing to bring the killer he's looking for to justice. Just when he believes the case has reached a dead end, he stumbles upon a not so lucky break. Could the ruthless killer he's looking for be the same man who has stolen his daughter's heart? 
Aaliyah Richards is the only good thing going for Dardian Dreshaj, and he would do anything to keep her safe. Dardian has made it known from the beginning, mess with him and he might excuse it, mess with Aaliyah and all rules fly out the window. They knew what he was capable of. They knew Padukshëm was not a myth. The reason they threatened her never mattered. What does matter is after he's finished with them, they'll know never to do it again.