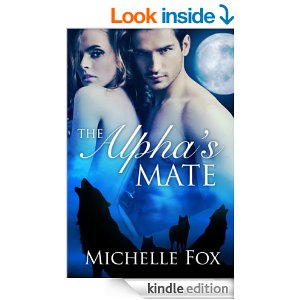 On sale for 99 cents for a LIMITED TIME! 

What reader's say about Michelle Fox's werewolves: 

"I love how well the characters are developed and rounded out – I feel like I know about these characters before they jump in the sack – which for me is a HUGE deal!" 

"Fox adeptly weaves several enchanting love scenes into her romance framework. 
Best of all, they actually add to the story." 

"This is the third shifter story I've read from this author, and I love the edge of humor, the way she introduces the problems of the pack, and the wolfish behavior that sneaks into the human interaction." 

Little known fact about being a werewolf: There are always wolves at your door and some of them are up to no good. 

Chloe Weiss' dreams have finally come true: She's a null no more, her wolf has finally come. She's now a full member of her pack in the remote Appalachian 'weretown' of Hunstville. 

Even better, she's mated to the pack's next alpha, Jackson Swift. However, now that she's on the other side of her happy ending, things aren't quite as rosy as she'd expected. 

The women of her pack resent her status as alpha's mate and suddenly there are rumors that Chloe is an Omega, a werewolf so weak they are banned from ever mating. Worse, an old friend of Jackson's blows into town full of disapproval….and competition. It seems no one likes Chloe except Jackson. 

Then women start disappearing, violently kidnapped from their homes and never heard from again. There's a killer on the loose in the small town of Huntsville, and the one wolf he'd do anything to have is Chloe. 
Buy Now On Amazon

Now Chloe will have to fight…for Jackson, her place in the pack, and her life. 

This novel is a sequel to the bestselling To Bring Her Wolf.