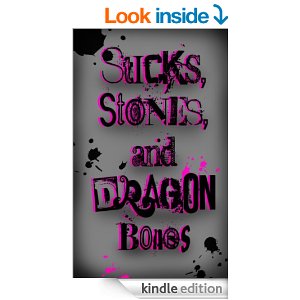 SPRING SALE: Entire Dragon Bones Series going on sale March 1, 2014.
ALL BOOKS 99 CENTS!
A door that leads nowhere…
a key to open it.
A map of a land that doesn't exist,
and a monster that does.
Four sisters; a hypochondriac scientist, a mordant writer, and two feisty twins aspiring to be pirates, set off to retrieve their eldest sister who has been kidnapped into an unknown world.
Their adventure involves a grim prophecy from the oracle Sybil, help from a rugged viking named Barnabas, and the ever terrifying presence of Brakkus the dark-hooded villain who is in constant pursuit of them. The four sisters must work together to outwit the creature Brakkus, face their fears, and unravel the clues of an ominous prophecy to find their sister before time runs out…
"Follow the river of blood and you will find a coffin of leaves… You will find her in the clutches of two great forces seeking power. They both prowl behind curtains of violence, but one can deliver only evil and the other, possible freedom. The one you seek is in the jaws of the deliverers, but you must hurry, for like meat thrown to dogs she will be ripped apart."