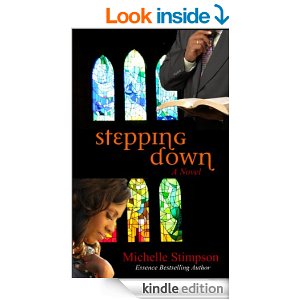 #1 AMAZON BESTSELLER – African American Christian Fiction!
Mark has been pastoring New Vision church for six years now, and all his hard work is about to pay off as the church approaches mega-church status. But while Mark has been busy building the church, his own household has been crumbling to pieces. After ignoring divine guidance, Mark finds himself caught up in the appearance of a scandal that threatens to tear the church apart. And his wife's secrets only add insult to near-fatal injury.
Sharla would have done just about anything to be a mother…and, actually, she did. She was willing to pay the price for her mistakes, but she never dreamed someone else might have to suffer instead. How close can she come to confessing her past without jeopardizing her future?
Stepping Down is the eighth full-length novel from National Bestselling Author Michelle Stimpson. As the granddaughter of a pastor and the great-granddaughter of a bishop, she explores a conflict many spiritual leaders still encounter today. Readers will enjoy this fast-paced, hard-hitting novel that addresses the ageless question: How can a man run the church if he can't run his own household?