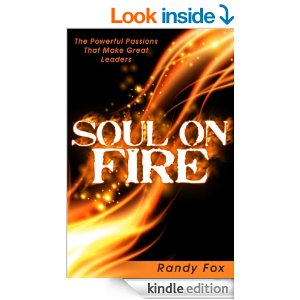 Soul on Fire encourages men and women to lead with a heart of passion. The easy to read journey is
filled with inspirational quotes, heartwarming stories and practical advice on the power and purpose of leadership.
As the book states, A leader loves:
Dreaming the Impossible Dream—Believing in career miracles
Improvement—The importance of recreating oneself for greatness
Persistence—Going along the wall until you find the door
Making Others Successful—The joy of seeing others find their dreams
And, more!
"…this read is a really fun way to get fired up about leadership. Randy has re-ignited my
passion for leading others, and I can't wait to get to the office and begin applying these
sound and practical words."
Mark W. Englizian
Group Vice President, Walgreen Co.
"At certain times in life, everyone needs a guide, whether it be personal or professional.
This book guides you and makes you aware of what it takes to be a leader. A perfect
read for our future's great leaders!"
John P. Foley, Jr.
President/CEO/CMO, Interlink One & Grow Socially
"Leadership starts in the soul—Randy has captured the passions of leaders that move
organizations forward. A fast-paced, enjoyable and terrific read."
Travis E. Dodge
Executive Director of Sales, Sprint Corporation