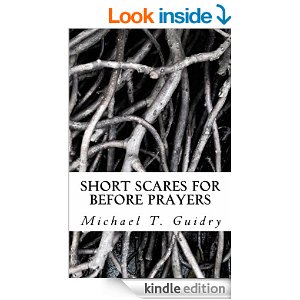 If you read what's within these pages, I can guarantee you'll be saying your prayers before bed. 

'Short Scares for Before Prayers' showcases college student Michael T. Guidry's ability to induce fear and spine-chilling stories in a matter of minutes. This collection of horrific short tales contains nearly thirty well-crafted and terrifying situations that are sure to keep your eyes wide open as you read them- and while you try to sleep after. 

This anthology contains a guardian angel that isn't so innocent or imaginary, extreme weight loss techniques, recurring nightmares, terrifying valentines, an all-too revealing palm reading, a deathbed confession that guarantees something far worse than death itself, and much, much more. 

The length of the stories inside range from a few simple sentences to six pages long, each designed with the intent to terrify and disturb. Turn to any page you wish, and it doesn't matter if you're tucked in- nothing will save you from the monstrosities in this book.