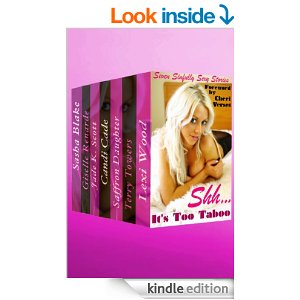 Amazing Introductory Price! Grab it FAST!
Seven of today's hottest erotica writers have teamed up to bring you a collection of taboo tales sure to get your pulse racing!
Introduced by the great Cheri Verset, "Shh… It's Too Taboo" leads you through seven secret worlds created by seven naughty authors. Don't be afraid to step into a realm of forbidden fantasy. You know you're safe with Jade K. Scott, Terry Towers, Candi Cade, Lexi Wood, Sasha Blake, Giselle Renarde and Saffron Daughter as your guides. Let your heart palpitate as you lose yourself in more than 40,000 words of shocking sexual encounters.
You're certain to love these seven sizzling stories every bit as much as our characters enjoy their hot and spicy sex!
Want to see the full table of contents? It's extremely naughty. You'll have to click the Amazon link, lift the cover and have a peek inside!