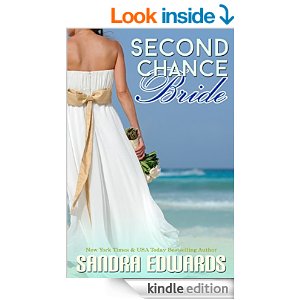 Escape to paradise with New York Times & USA Today Bestselling author, Sandra Edwards, in her latest modern-day, romantic fairytale, Second Chance Bride! 

After being jilted, practically at the altar, Genie Wainwright heads to Hawaii to escape the well-meant pity party her friends and family are bound to throw on her behalf. What she never expects is to find someone to help her mend her broken heart. 

Donnie Taylor, owner of the posh Sapphire Bay Resort, has no interest in marriage—until he meets an unforgettable guest at the hotel. What starts out as a kindhearted gesture brings Donnie something he never expects—a chance at love! 

*Second Chance Bride is a short novella of approximately 11,000 words. About 46 pages.