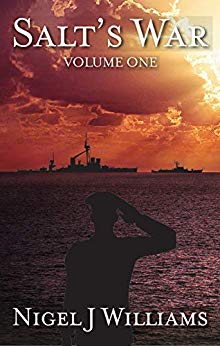 Set in the dark days of the cold War in the 1960`s Salts War is the first instalment of the truly moving and inspirational story charting Sam Salts life, as he struggles against overwhelming odds to achieve his life-long ambition of becoming an Officer in the Royal Navy.
Sam, life is turned upside down when loses his Father in an underwater submarine collision whilst out on patrol as Captain of HMS Narwhal, a fleet class "Porpoise" attack submarine.
Following his mother's untimely death and without siblings or relatives to turn to, Sam is sent to a Royal Naval Orphanage: T.S. Seaway in a remote part of Anglesey, where he`s plunged into a dangerous world of Soviet espionage, and gruesome murders. Survival at Seaway turns out to be the biggest challenge young Salty has ever encountered, and it`s not made any easier under the watchful eye of Chief Petty Officer; "Jack 'Black' McPherson" himself an integral part of the mystery.
An old enemy appears, in the form of Soviet Kapitan Leonid Medhev. Kapitan of the M410 a Russian "Quebec" class attack submarine, the same submarine that collided with Narwhal killing his Father: Captain Brian Salt. See price on Kindle.