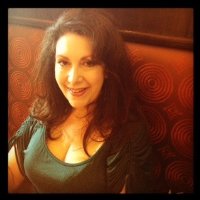 What inspires you to write?
My mother was Jewish and my father was Romany, therefore I grew up haunted by my families memories of the Holocaust. Most of my novels are set during the Holocaust. My reason for writing is simple. I feel that through fiction I can help to build understanding of what happened, how it happened and why. Right now, there genocides taking place. . Only through knowledge can we begin to stop these terrible genocides.
What do you like to do when you are not writing?
When I'm not writing, I like to meditate, play with my cat ( I love animals) do water aerobics and eat pizza. Now that sounds pretty contradictory I guess. I'm no health nut, by any means, but I do love the way the water feels on my skin especially outside in the sun. And pizza? Well, that speaks for itself!
What is your favorite book of all time and why?
This is a really difficult question! I have so many books that I love. I could fill this page and two more with the titles. But I'll name a couple. I don't want to get boring or long winded here: I loved :"The Far Side of the Sky," by Daniel Kalla. It was a beautiful love story and I'm a sucker for a great love story. "East of Eden" by Steinbeck. It was one of the only books I read twice. So powerful.
Are you writing more books? If so, what is your next release?
I am in the process of finishing the sequel to "You Are My Sunshine." It will be called "The Promised Land." It is a complex story that begins at the end of WW2, involving a group of survivors trying to build a Jewish Homeland. However, it is also the story of the Nazi's that were tried in Nuremberg, and the ones that escaped to South America. There are love stories, revenge plots, and betrays involved as well. This was a riveting period in history, so I've inserted fictional characters into factual situations. . I am hoping to release this novel sometime around Christmas.
Tell your readers something about you that they might not know yet.
My readers probably don't know that I am a quiet, almost reclusive person. Quite often, due to the nature of my research, I find that I battle depression. It is very difficult to read about man's inhumanity to man and not feel some inner pain. But I work hard to stay positive, to look for the heroes during the Holocaust, the people who went above and beyond to help others while putting themselves at risk. When I do this I am reminded of the goodness in Mankind.
Other Info
Website: http://www.robertakagan.com/
Reviews:
This is a beautifully written book about a beautiful subject in an ugly and monstrous world. It is like orchids growing in fifth. In short it is about friendship and love in the midst of the third Reich. Ms. Kagen is an unbelievably talented writer. She has exceeded her own very high standards. You will be stuck in this book until the end and you will be unhappy that it ended. This is an interesting and intriguing look at possibly the worst evil in modern times. The writer has generated characters that even at there worst are so well defined you feel that this is a true story. If you lost family in the holocaust this is a read that is liberating. This is a writer we will be taking about. This is a story that we will be talking about. So do not be left out get this book and start reading now.
author writes in a beautiful manner…loved how she uses words….story line so true but sad…we should never forget what happened during WW11 and the horrible treatments caused by the Nazi regime…..