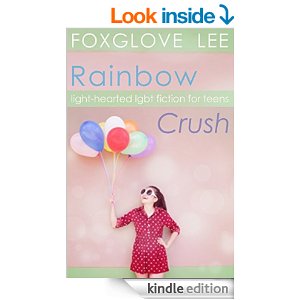 Five fun fictions from the author of Tiffany and Tiger's Eye & Truth and Other Lies! In Rainbow Crush, revisit five favourite short stories featuring gay and lesbian characters:
In "I Hate Love," Mila melts Laura-the-Ice-Queen's heart as Jaden learns that dating an older man could have repercussions he hadn't anticipated. Mila and Laura are back with impossibly high expectations in the side-splittingly funny housesitting comedy "Happy Birthday, Klutzface." In "I Know What Gay Is," Jay the teenaged manny and his young charge Sarah, who insists on being called Frank, find an unexpected ally on the soccer field.
School is back in session and tempers flare when Mila, Laura and Jaden stumble into a protest where classmates insist a gender-nonconforming new student "Dress Like A Dude." In our final story, aspiring teen chef Noah comes out of the closet in a most surprising way during his first television appearance in "The Secret to a Perfect Latke."
Foxglove's first short story anthology is full of humor and heart–perfect for a little light afternoon reading!