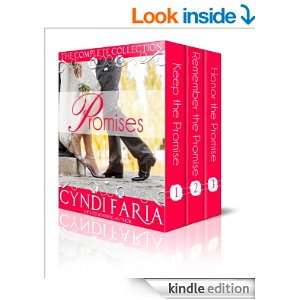 PROMISES… Three (3) heartwarming stories of timeless love, first love—second chances, and best friends to lovers await.
KEEP THE PROMISE (A Best Selling Short Romance): Clayton's girlfriend Sarah has proposed marriage despite knowing he doesn't believe in lasting love. In the midst uncovering garden vandals, will Clayton discover instead, he's a man worth loving?
REMEMBER THE PROMISE (An Award Winning Novella): When Bailey's prized tiger trespasses onto the Tucker's hunting range, and poachers threaten not only her tiger's safety but the livelihood of her preserve, will Bailey reach out and learn to trust Tucker once again in order to save her endangered Bengals?
HONOR THE PROMISE: When girl-next-door Maggie partners in a pageant dance completion with her best friend, fire cadet Garrett, will the pair rise and face their greatest fear of disappointing others in time to find their happily ever after?