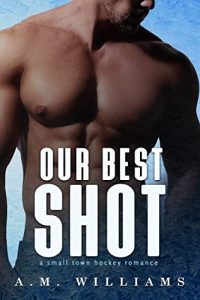 Rory
On the outside, my life seems perfect. I have my friends, family, and quirky small town to keep me satisfied plus my secret writing career that's done better than I ever dreamed. What's not to love?
There's just one thing missing. But I don't know what it is.
At least until he comes back to town. The man I crushed on so hard in high school, I couldn't talk in full sentences around him.
He's back, he's ready to settle down, and he's set his sights on me, the wallflower.
Every time I turn around, there he is. He wants to know about me. And no matter how hard I try to ignore him…I can't. He's everything I wanted as a teenager.
And as an adult? I'm discovering that he's the total package and is ready to sweep me off my feet.
Alex
Deciding to retire from my professional hockey career was easy. I miss my family, friends, and hometown. I crave a slower lifestyle so I can finally settle down.
What isn't easy? Figuring out how to coach teenaged boys in how to play hockey and win over the woman I can't stop thinking about.
I think about her constantly and am constantly finding ways to run into her 'by accident'. I want to know everything about her, but she's hesitant and I have my work cut out for me to convince her to step outside her comfort zone and date me.
But I'm up for the challenge. I'm ready to show her what being with me could be like and that she doesn't need to be scared.
With outside forces working against us, can we get it together for our best shot at a happily ever after? $3.99 on Kindle.