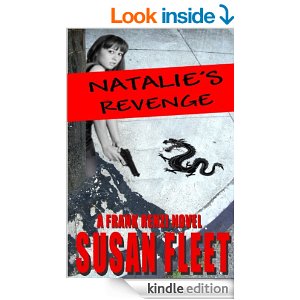 TWO MURDERS TWENTY YEARS APART
1988: Ten-year-old Natalie is devastated when police find her call girl mother brutally beaten to death in a New Orleans hotel. Like the dragon tattoo girl, Natalie wants revenge. She vows to find the man who killed her mother and punish him. After her unhappy teen years in Texas, her hunt for the killer takes her from dancing in New York City strip clubs to working as a call girl in Paris. And back to the Big Easy, with a gun.

2008: New Orleans Police Detective Frank Renzi investigates the murder of a VIP businessman in a French Quarter hotel. Is it revenge for the 1988 murder? When the killings continue, Renzi pursues the elusive Natalie. Is she the killer? Or just another call girl?

Don't miss the exciting showdown between Natalie (armed, dangerous and determined) and NOPD detective Frank Renzi.

What to read after the dragon tattoo girl? Natalie's Revenge! She's smart, ruthless and deadly

Whether you file it under revenge mystery, dragon tattoo girl (yes Natalie has a tattoo), hard-boiled mystery, or New Orleans mysteries, Natalie's Revenge will keep you reading until the last page.