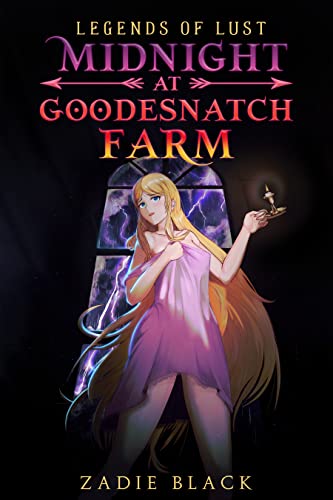 When night falls, this remote farmhouse becomes a place of shadows and secrets—as well as a playground for carnal pleasures!
While hunting for a rogue sorcerer, Sir Richard of the Lance takes shelter from a thunderstorm in a remote farmhouse owned by crabby old Farmer Goodesnatch. The farmer has a cute blonde daughter and a sultry redheaded wife, and Sir Richard soon discovers that both women are bored and extremely lonely. And he suspects the surly farmer and his hulking manservant of concealing dark secrets.
As night falls, Sir Richard attempts to quietly investigate these mysteries—as well as deal with the erotic advances of both Mrs. Goodesnatch and her daughter! But Sir Richard will soon find out that these lusty women are in grave peril. Now he must rescue the bound, naked women from dark magic. If he does, you can be sure that both will be eager to show their gratitude to our brave hero!
Midnight at Goodesnatch Farm is an adults-only fantasy adventure novella by Zadie Black. $3.99 on Kindle.