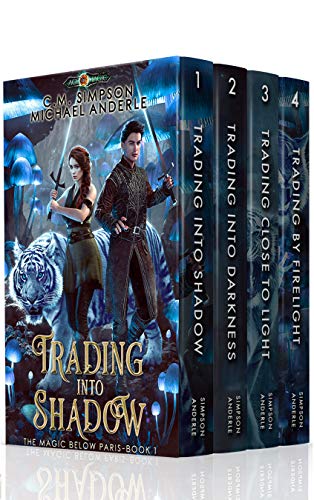 After surviving a shadow monster ambush, Marsh must get back to civilization, keep two kids alive, and make a delivery.
Get the first 4 books in this bestselling series in one boxed set!
Trading Into Shadow, Book 1:
But, with shadow monsters and raiders closing the trade routes, she's out of a job, and lost beneath the ruins of one of the greatest cities of the world. She doesn't need a deserted farm to complicate things… or a parentless pup… or to be hunted by a hoshkat. What she needs is to find a way home… through the dark… but the predators are out in force, and home is a very long way away.
Can she discover what happened at Leon's Deep, in time to stop it from happening again? Or did she escape the ambush, only to see the rest of her world fall to the ones behind it?
Trading Into Darkness, Book 2:
A face from the past, an attempted theft, and a death threat: Just what every girl needs to make a bad day better.
Everyone has the ability to do magic, but not everyone can… Marsh knows the saying well.
What she doesn't expect is that there are some forms of magic she just can't master.
With the fate of the Four Caverns hanging in the balance, and raiders closing on the monastery, Marsh thinks the last thing she needs is to discover she can't re-light the trail glows.
In fact, the last thing she needs is a violent visitor from the past and the promise that her refuge will fall.
Haunted by the warning, she and the shadow mages must clear the trade route to Ruins Hall and establish a fighting force to protect the Four Caverns, a task easier said than done.
Can she make it through the tunnels alive and discover what links her failed delivery to the raiders?
One courier, one kat, two kids and a shadow mage not so alone in the dark. $0.99 on Kindle.