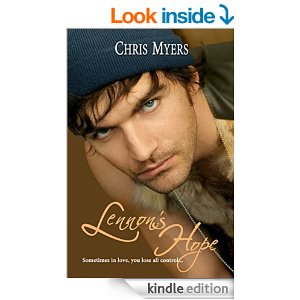 Sometimes in love, you lose all control…
At age ten, Rain fell hard for the sweet boy caring for his sister.
At age eighteen, she runs into Lennon, now an experienced player and no longer the innocent boy she once loved.
At age nineteen, she has to put all her plans on hold to have his baby, and under a cloud of deception, she faces tragedy and heartbreak.
At age ten, Lennon proposed to Rain in front of the whole school.
At age eighteen, he thought he was over her until he sees her at a party, no longer a little girl but all grown-up and sexy as hell.
At age nineteen, he loses what he cherishes most.
Praise for Lennon's Jinx Book One of the Lennon's Girls Trilogy
Lennon's Jinx blew me away!!! I absolutely fell in love with this book. I read this book in one sitting, because I just couldn't book the book down… Ever and Ever Sight Blogger
Can I just say that Chris Myers is an incredible author. She knows how to grab you right from the beginning and keep you reading along until you get to the end and leaves you wanting more and more… A Diary of a Book Addict
…This was so well done. This is the second book by Myer's I have read and loved. I will pick up anything she writes in the future and read it. She is truly a talented writer that knows how to get under your skin and leave a mark that won't soon be forgotten. My Guilty Obsession blogger.
…Lennon's Jinx is more than a love story, it's a life story. One about perseverance, standing up for one's convictions, letting the right person inside, and allowing oneself time to heal in order to love again. I loved it. LM Pruitt Reader Girls Blog
…This book held happiness and tragedy, loss and redemption, life and death and love..it was brimming with different emotions and issues and it could just as soon bring me to tears as have me shaking in fits of laughter. I loved the characters, the stories and the different journeys I was taken on. This book was great and I cannot wait to know more of Lennon's story! Pieces of Whimsy blogger
Praise for Lennon's Rain Book Two of Lennon's Girls Trilogy
The sex in this book is really hot and is stepped up a notch from the last book. This is such a great love triangle that keeps you thinking is that the right choice, did you really want to do that. Niccis Book Blog
Lennon's Rain is so much the bad ass sibling!! It oozes raw emotion, sex, drama and Chris Myers' writing style is honest, absorbing and flows easily. KV Loves Books Blog
I love that you can lose yourself in the story but you are not reading something so far fetched that it is too perfect. her characters are so full and layered. Flirty and Dirty Book Blog.
Just when one thinks the story is going one way-boom!-it changes course and as a fan I remained for the duration of this sweet, sexy, fun ride. Reader Girl's Blog
How Chris Myers managed to make you fall in love with two heroines in different books, I have no clue. Book Freak