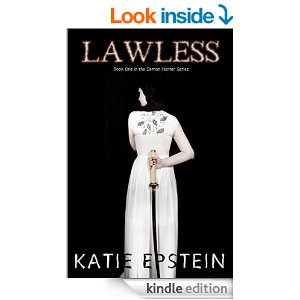 ** Note this book does contain scenes of a sexual nature, and some very questionable curse words depending on one's point of view ** 

Macey Jennings is an ex-demon hunter who earns her living between running a demon nightclub, and a business that bounty hunts non-humans. 
Between running a busy bar, hunting demon out-laws, and staying under the radar of the councils governing the unknown part of our world, Macey is happy plodding on with her life until Harry Sinclair knocks on her door. 

A Private Investigator who is clouded with his own troubles, Harry is on the case of a missing girl who was kidnapped not long after her sister was killed in mysterious circumstances. Now he has followed the trail to Macey's nightclub, and can't quite fathom what a girl like Macey, would be doing in such a place. Thinking drugs is mixed up with it all. 
That's until Macey proves her point and rips his blinkers off. Showing Harry her world and throwing him straight into the middle of it. 

Now Harry has to trust the woman whose mere presence sends him into a frenzy, and let her help him with the case. Unable to deny what he has seen shown with his own eyes. 

The chemistry between them is undeniable, but the clock is ticking with a jealous ex-boyfriend thrown in for good measure, and if Macey and Harry don't find the girl in time, all hell is about to break loose. Literally.