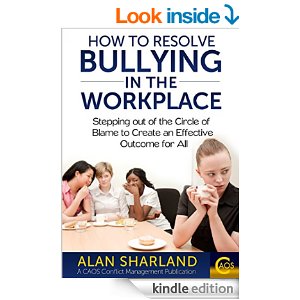 Bullying in the workplace is an increasingly present phenomenon within relationships at work. However, the need to prove that bullying has occurred before action can be taken is an immediate obstacle to moving forward in difficult workplace relationships. The ambiguity and subjectivity associated with the concept of bullying becomes an obstacle to creating more effective responses to their situation for all involved in difficult workplace relationships.
Those who feel bullied, those who are accused of bullying and those who manage such situations can be distracted from attempts to resolve the situation by the subjectivity and confusion associated with the need for 'proof'. As a result a circle of blame will often arise that leaves all involved dissatisfied with the outcome – if a clear outcome is even possible.
This book recounts the experiences of the author, who works as a mediator and conflict coach, in which he has seen work colleagues involved in bullying allegations find ways of resolving their difficulties through a focus on discussing the detail of the behaviours involved in the situation rather than simply focus on proving bullying has or has not occurred.
The 'one size fits all' concept of bullying is usually inadequate as a description of the experiences of those involved in broken working relationships and the accusations and counter-accusations tend to maintain the broken relationship rather than mend it.
The book gives examples of dialogues that can occur, distilled from real-life discussions, that focus on creating more effective working relationships instead of allocation of blame, seeking retribution and retaliation.
The hypocrisy and ultimate ineffectiveness of traditional approaches to allegations of bullying is addressed from the start and the combative and retaliatory language associated with most literature about the topic is highlighted as an indication of how the phenomenon of bullying is self-perpetuating when it is responded to and discussed in this way.