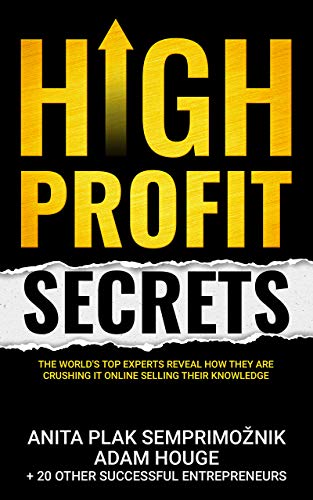 Struggling to turn your hard-earned experience into a reasonable and scale-able income? Discover how online innovators started from scratch to establish highly profitable ventures.
Are you an expert, authority, coach, or entrepreneur with little to show for your long hours? Is your business battling to get off the ground? Do you wonder how the movers and shakers create cyberspace empires?
Bestselling author, successful entrepreneur, and digital marketer Anita Plak Semprimoznik has helped countless people turn their passions into money-making endeavors. And Wall Street Journal and USA Today bestselling author Adam Houge has sold nearly three million books and helped hundreds of authors become bestsellers. Now they have created a remarkable manual so you too can learn the tips and tools to skyrocket past the competition.
High Profit Secrets: The World's Top Experts Reveal How They are Crushing It Online Selling Their Knowledge is your powerful guide to establishing your business on firm footing. Filled with in-depth interviews by over twenty of the most influential names on the Web today, you'll uncover the key factors, strategies, and trade secrets they used to optimize their digital earnings. No matter your area of expertise or level of experience, you'll find a model suited to your ideal lifestyle so you can truly take charge of your income.
In High Profit Secrets, you'll discover:
*Easy-to-follow tips shared by successful professionals on how they made their mark in the industry
*How to sell your knowledge effectively via books, online courses, podcasts, group coaching and many other way.
*Ninety-day plans for creatives starting their ventures from nothing
*How to solve your buyers biggest challenges so you guarantee a sale
*Tactics for coping with overwhelm, changing markets, and much, much more!
High Profit Secrets is and invaluable treasure trove of knowledge from highly profitable entrepreneurs that can help you rocket your income and sales forward faster. With interviews from top experts like:
Adam Houge, Alinka Rutkowska, Ayn Cates Sullivan, Brady Patterson, Brandon Lucero, Brendan Kane, Bryan Collins, Chandler Bolt, Chantelle Paige Turner, Desiree Crowley, Geoff Affleck, Iman Aghay, Jeanna Gabellini, Jesse, Doubek, Kyla Sims, Marie Van Den Berghe, Meera Kothand, Nathan Buchan, Paul Brodie, Ray Brehm, Scott Allan, Sean Sumner, Steve Larsen, Steve Olsher and Sue Dunlevie.
Learn how the likes of young entrepreneur, six-time bestselling author and TEDx speaker Chandler Bolt, the founder of Self-Publishing school, went from ground zero to being a major player in self-publishing industry, by teaching people how to write, market, and publish their first book in as little as ninety days.
Or how an award-winning serial entrepreneur, best-selling author and TEDx speaker Iman Aghay, the founder of Success Road Academy, went from ground zero to being a major player in a 9-figure earning training industry.
If you'd like to take your business to the next level: 6-figures, 7-figures, and beyond, then come and learn the High Profit Secrets of these highly successful, world's top entrepreneurs today. $0.99 on Kindle