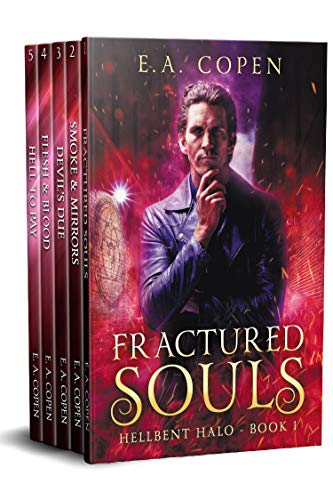 He rescued the devil's daughter, but Hell isn't celebrating…
This digital box set contains all five books of the popular Hellbent Halo series from preternatural storyteller E.A. Copen.
Fractured Souls
Rogue wizard Josiah Quinn never met a rule he wouldn't break. Even though he knows he'll face plenty of backlash from both good and evil, he braves the fires of Hell to spring Satan's captive daughter. But before they return to their lives, he's got to track down the missing pieces of her soul…
As he attempts to unite the fragmented spirit of the succubus by his side, Josiah has one little problem: a power-hungry wizard aiming to rule the underworld. And since that handsome devil also happens to be his old flame, fighting to protect millions of innocent lives is like battling his own heart.
With New York City in the crossfire, can Josiah pull off the impossible before all Hell breaks loose?
Smoke and Mirrors
Working for Heaven is a living Hell for rogue wizard Josiah Quinn.
Too many rules and not enough easy cash. His first official assignment from the God Squad? Solve a string of brutal murders Josiah believes are part of an intricate and all-too-familiar summoning ritual involving broken mirrors.
Devil's Due
They say Heaven protects children and drunks.For the rest of us, there's Josiah Quinn.
Parting with God's Hand might mean the foul-mouthed half-angel has to lie low, but he's still got to pay the rent.
Will he be able to do that if he hunts bounties no one else will accept?
Yes, as long as he can stay alive.
When a vampire hunt goes terribly wrong, Stefan is left clinging to life by a thread.
Will Josiah betray the only friend he has left in the world to save the man he loves?
Or will he sacrifice Stefan for the army he needs to defeat his father once and for all?
And more! Buy the Hellbent Halo Complete Omnibus and dive into these bloody good mysteries today! $0.99 on Kindle.