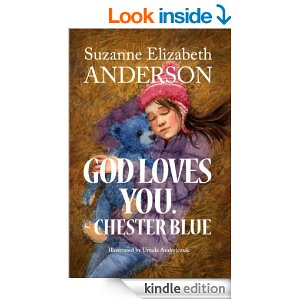 A charming book about a mysterious bear that shows up in the right place at just the right time. His comforting message and his cache of supplies always solve the problem at hand. The story is very reassuring on many levels, reiterating the old adage that all's well that ends well." – reader review 

God Loves You. ~Chester Blue was originally written as a children's chapter book. However, since its launch it has found its widest readership as an inspirational story for adults. This is because, although each short chapter features a different person encountering God through this blue bear…half of the encounters involve adults dealing with real-life events such as job-loss and growing old. 

AN INSPIRATIONAL BOOK OF HOPE FOR ALL AGES. 

God's love always finds us just in time. No matter where we are, or who we are, God has a special message of Love for each of us. 
What if when you most needed help, a blue bear appeared with a note from God?? One night, Miss Millie of Blossom, Ohio turns her face to the stars and asks God for help. The next day, a package arrives on her doorstep containing a blue teddy bear and a very special note. 
God will meet us where we are… 

Over the course of a year, this remarkable blue bear travels across the country, showing up just when he's needed most. 

During his journey, Chester Blue helps a young girl trying to impress her big sisters; helps a man who has lost his job; saves a sailor caught in a terrible storm; reunites two constantly fighting brothers suffering from a terrible case of sibling rivalry; watches a cowboy become a rodeo clown; and helps a father and daughter after divorce. Each chapter is short story demonstrating God's love for us in every situation. 

God is everywhere. His love can find us anywhere. 

Whether you are a child or an adult, God has a very important message for you, too… 
God Loves You. Chester Blue is an inspirational book for kids, adults, parents, families, in other words, everybody.