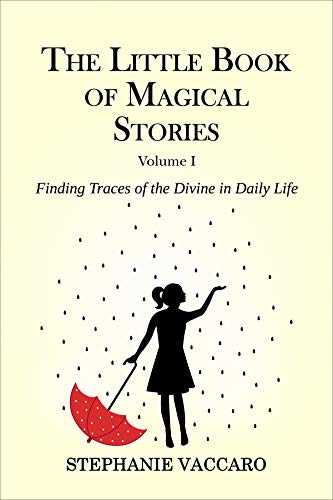 If God were leaving you messages, what would He say, and where would He leave them?
This provocative question is at the heart of this amazing and inspiring book, The Little Book of Magical Stories: Finding Traces of the Divine in Daily Life. This book emerged from the author's daily life experiences, both grand and ordinary.
In this book, Stephanie Vaccaro shares with you 85 delightfully brief, true stories of how the Divine has left messages for her. Some of them were quite serious. Some of them were pretty insightful. And some of them were downright funny. You may already be getting messages from the Divine, but not realizing it. If so, this book is for you.
Stephanie has been a prayerful person all of her life. Her unique gift is looking at life through a spiritual lens. This has allowed her to find traces of the Divine in her own life. She can show you how to do that too.
Make no mistake about it, after reading this book you'll smile with enjoyment, but you'll also start to wonder. And soon, you'll start looking at your own life and begin finding traces of the Divine there as well. Free on Kindle.

Author:
Stephanie Vaccaro