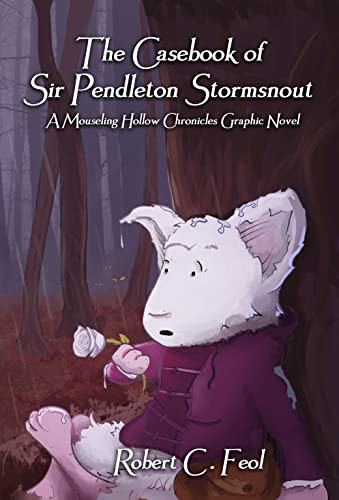 "Sir Pendleton Stormsnout: Legendary Detective and Seeker of Adventure."
So reads the sign that hangs by the entrance of the palatial estate that lies on the outskirts of the sleepy hamlet known as Mouseling Hollow. For most mice, hanging such a sign outside their place of business would be sheer arrogance – a sure sign that they were either puffed-up braggarts intoxicated with their own boastfulness, or vainglorious charlatans seeking to separate the innocent from their hard-earned coin.
But Pendleton Stormsnout is most certainly not 'most mice.' Far from it…
For Pendleton Stormsnout, the sign that hangs outside his stately manor house is merely a simple declaration of fact – for he is both a legendary detective, and a lifelong seeker of adventure. Over the course of many seasons, the tales of his exploits have spread far and wide throughout the entirety of King Teegan's Far Collective. The rumors say that Pendleton Stormsnout is a prodigy – a virtuoso – a 'renaissance mouse' in the truest sense of the phrase. They say that his powers of observation and deduction are unparalleled. That he can out-think the most distinguished scholars from the University at Old Town, out-fight the greatest champions from the Black Baron's infamous Arena, and out-drink the thirstiest scalawags in Captain Redfur Tumblefox's fabled Wrecking Crew. Some even whisper that he sets a finer dinner table than his neighbor, the beloved chef and innkeeper Robert Teague. Free on Kindle.