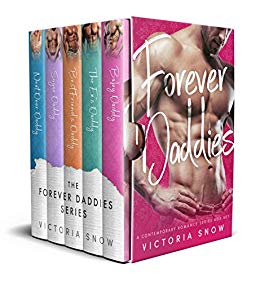 A Delicious Buffet of Hot Daddies!
Five sinfully hot older men, oh-so-alpha and protective of their special ladies.
Each book in this bestseller box set is a full length 80,000 words standalone novel with a very satisfying HEA. Make sure you bring your favorite cold beverage, you are gonna need it.
Books Included in this box set:
1. Baby Daddy
2. The Ex's Daddy
3. Best Friend's Daddy
4. Sugar Daddy
5. Next Door Daddy
Download your copy now to get lost into this delicious blend of daddy hotness.
$0.99 on Kindle
[shareaholic app="share_buttons" id="4690042"]