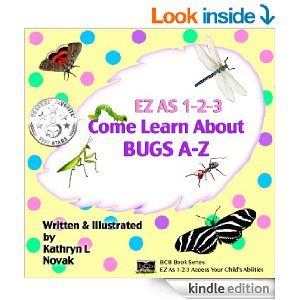 2 Day Promotion – Free on Amazon May 17 & 18, 2014
EZ as 1-2-3 Come Learn About Bugs A-Z is a Children's Rhyming Picture Book about bugs every letter of the alphabet. Each page is in rhyme and the book is filled with a large selection of beautiful bug illustrations on a darling polkadot background.
This book is a great tool to teach children the alphabet. This cute bug book also teaches kids about bugs they know, and bugs they've never heard of.
Book Excerpt:
Dragonflies start with D,
and they soar through the air.
It's quite simple for them 'cause
their wings come in pairs.
If you spell the name inchworm,
you'll need just one I. He grows up,
he sprouts wings, only then can he
fly.
M is for moth, and they come
in all sizes. Luna's large and
spins silk, but seven days' all
his life is.