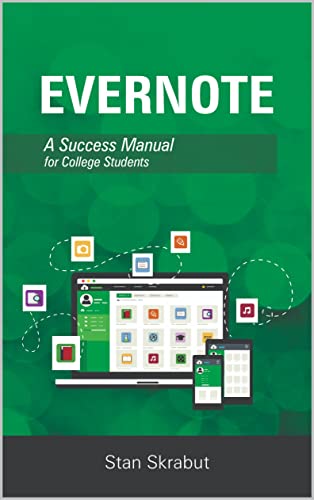 You can use Evernote in all aspects of college life to make your experience more productive and less overwhelming. In Evernote: A Success Manual for College Students, Stan Skrabut capitalizes on his decades of experience in higher education as an educator and student to share ways you can use Evernote to become more successful in college.
In this book, you'll learn:
How Evernote works to keep you more organized
How to create master course notes
How to take your research to the next level
How to use Evernote to prepare for exams
How to automate your research collection
How to use Evernote to track meetings, contacts, and travel
How to enter notes to find them with ease
How to use Evernote with other programs
How to set up powerful search queries
You will learn strategies for using Evernote both in and out of the classroom. Throughout the book, Skrabut offers detailed, concrete examples and best practices for using Evernote from setting up preferences, creating saved searches, and developing master study notes. These time-saving strategies will help you spend more time focusing on learning. It is time to put your digital brain to work. Buy this book NOW to improve your classroom performance and stop feeling so stressed and overwhelmed!