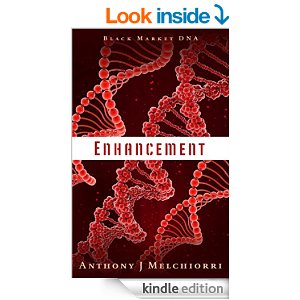 In the year 2058, Baltimore's latest crime epidemic isn't gangs or drugs—it's illegal genetic enhancements. 
Before Christopher Morgan is even out of prison, he's already on a hit list. He might have sworn off black market DNA for good, but someone out there is still after him. 

Once released, Chris doesn't have time to figure out why when the boss at his new workplace is murdered. He enlists the help of his colleague and fellow biomedical engineer Tracy Harrow. Together, they uncover a dark conspiracy that digs deeper into the world of bioengineering and genetic enhancements than they could have imagined. 

Genes and plans unravel. 
Chris and Tracy embark on a perilous race to uncover the truth behind the conspiracy—all while trying to figure out why there's still a hit out on Chris. 

Enhancement is a fast-paced, near-future thriller about genetic engineering, organized crime, and the abuse of advanced technology.