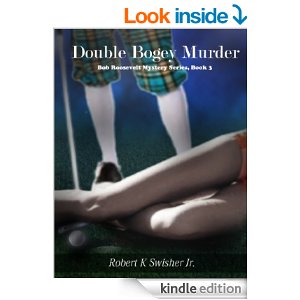 Double Bogey Murder is the 3rd book in the Bob Roosevelt and his snide guardian angel mystery series. Roosevelt heads to Phoenix. He wants to join mainstream life and take up golf. His guardian angel tells him trying to become normal is the stupidest thing he can do and golf will do nothing but cause Roosevelt great pain and maybe even get him killed.
Roosevelt tells his guardian angel in no uncertain terms to mind his own business. But, you guessed it, what does Roosevelt find during his first round of golf?
A dead lady that did not get killed by a golf ball – crooked cops, strange ants, gangsters that forgot where they put the money. Forget normal.