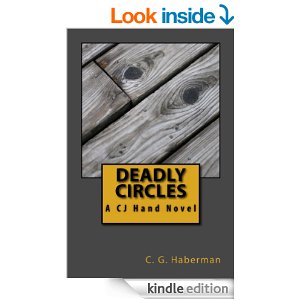 The pall of death hangs over two distinctly different valleys separated by eighteen-hundred miles. One a modest, unknown channel drained by a small cool-water stream and the other a magnificent gorge carved by a roaring river that separates two states. Unknown to a man, tormented by loss and intensifying anger, both valleys hold his fate.
A bloody mist suddenly fills a truck cab. It was not the shot but the seconds after that begins change for criminal investigator CJ Hand. Beset with his recent loss and pent-up anger he takes leave from a tangled bureaucratic mess. Trying to find self-worth he agrees to help friends by probing the accidental drowning of a friend's son.
The image of an uncomplicated investigation is quickly shattered. CJ encounters a maze of deadly circles surrounding the death. He begins unwinding hidden tentacles of political power and personal greed gripping Elm Creek valley.
Affecting his personal life are two intellectual and intuitive women who help him come to grips with what he has been running from, or toward, for a decade.
DEADLY CIRCLES is a fast-paced novel exposing the ugly underbelly of insidious criminal activity.