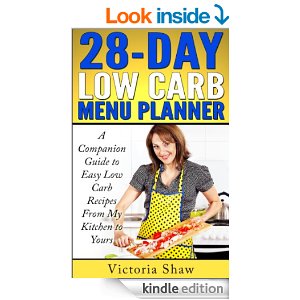 You love the low carb diet. It's a simple way to lose weight. However, you don't have the time to plan your meals for the next few weeks. You want an easy-to-follow guide for what to prepare for Breakfast, Lunch and Dinner.
The 28-DAY LOW CARB MENU PLANNER is a complete menu guide you can use for the next 4 weeks. It is a companion guide to the popular EASY LOW CARB RECIPES FROM MY KITCHEN TO YOURS. The recipes for the dinner dishes listed in the planner are found in the original cookbook. However, there are new, delicious recipes in this planner for breakfast and lunch.
A variety of low-carb dishes are provided to make it easier for you to eat right and lose weight. (Note: the planner is not meant for the induction phase of a low carb diet).
Take the stress out of planning your menu for the next month. The 28-DAY LOW CARB MENU PLANNER is a wonderful way to save time and effort. Enjoy flavorful, low carb meals that can be easily prepared. You don't have to worry anymore about what to cook for the next meal, the next day's meals or even the next four weeks' meals!
Get your copy of the 28-DAY LOW CARB MENU PLANNER now!