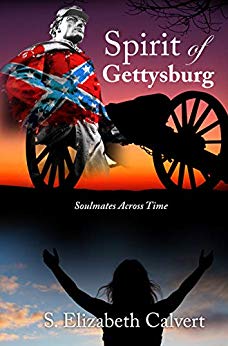 Washington, D.C. psychic to the powerful elites Maureen McAlister flees a contemporary, shattered life into the ghostly, loving arms of Confederate soldier Major Clayton Fontaine Douglas, her former husband and one-true-soulmate. He is an unrepentant Rebel, a proud, brave officer in General Robert E. Lee's Army of Northern Virginia.
Clayton is now a ghost stuck in time in her newly inherited Gettysburg, Pennsylvania estate. He is furious at God for the loss of his Country and her. Clayton is the only man she loves and trusts. He is dying again because of her. Maureen must change his fate and rewrite karma. She must try to save him…again. How?
Time travel back to their War Between the States lifetime together, persuade him to avoid Pickett's Charge during the July, 1863 Battle of Gettysburg and prevent his death. Fail and they are eternally separated. Fail and he is doomed to perdition. She is scared, very, very scared. What if she fails him again? $9.98 on Kindle.