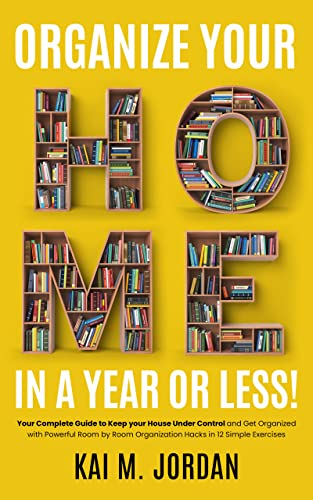 Amazon Best-selling author, Kai M. Jordan provides you with a step-by-step blueprint to Organize Your Home and Life without overwhelming yourself with complicated approaches and strategies.
In Organize Your Home In A Year Or Less!, you'll discover:
The biggest mistake people make when Organizing their homes that prevent them from enjoying a peaceful life in an organized home, and how to understand Decluttering Vs Organizing.
The only 3 techniques you need to know for an organized home and life.
The 5 ways to live your dream life with an organized home with 12 practical exercises to apply throughout the year.
The 4 things you should know about the difference between Decluttering and Organizing.
Secrets to a happier, healthier and organized life without sacrificing all your time and mental energy to achieve it.
What Benjamin Franklin said about Organizing!
Why your stress level is hurting your progress – and what to do to overcome it.
The best yearly plan with 12 exercises crafted carefully for you using scientifically proven strategies to help you on your journey to organize your home.
Practical strategies, solutions, tips and tricks to organize your kitchen, living area, bathroom, kids room, garage, attic, bedroom, closet, sentimental items, maintenance and cleaning.
…and so much more!
Imagine how you'll feel once you enjoy your life in your organized and clean home while controlling your stuff, and how your life could change for the better.
So if you're currently suffering from a messy and disorganized house, you can now rewire your brain, take back control of your stuff and enjoy a more peaceful life with Organize Your Home In A Year Or Less! $3.99 on Kindle.